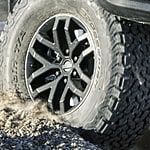 Perhaps you don't need a truck with a military-grade aluminum-alloy body that can withstand a lot more than the average truck body, but then again maybe you do. The Ford F-150 Tough has all of that for you and so much more.
This truck is designed to leave you impressed and wanting more. The makers of the Ford F-150 Tough understand that their truck is something that people look forward to owning. They want it for its ability to carry the day and to carry the load of the work that they need to do. Thus, people are flocking to purchase this vehicle and start applying it to the things that they need to be done in their daily life.
The available towing at 13,200 lbs. alone make this among the toughest trucks ever created. It is absolutely worth your time to check it out and apply this truck to your ownership checklist.